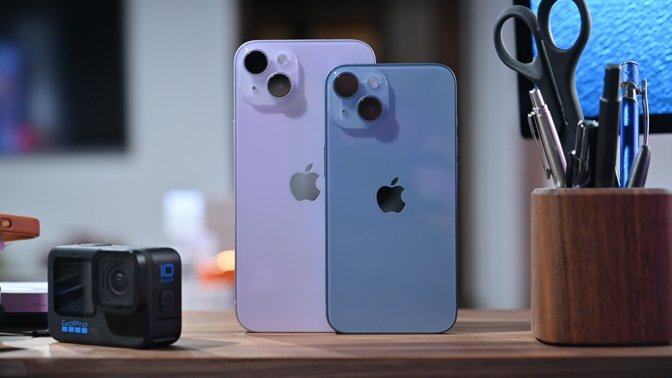 Introducing the iPhone 14, Apple's newest flagship smartphone launched in September 2022. They've really stepped up their game with some awesome upgrades from the previous version, including a cool new look, better cameras, and a faster processor.
New Sleek Design
The iPhone 14 rocks an entirely fresh design with those flat edges that give it a modern touch. And guess what? The annoying notch is now smaller, giving you more screen space to enjoy. You've got two size options: a 6.1-inch model and a slightly bigger 6.7-inch one. The back is all glass and you've got a bunch of cool colors to choose from like midnight, starlight, Product RED, blue, and purple.
Awesome Cameras
Say hello to the upgraded camera system! The main camera now boasts 12 megapixels, and they've made the sensor and pixels bigger. This means your low-light photos will be killer and you'll see tons more detail. The Ultra Wide camera also got some love – it's wider and even has autofocus now.
Power-Packed Processor
Inside the iPhone 14 is the supercharged A16 Bionic chip. It's way faster and more efficient than the one in the previous model (the A15 Bionic chip in the iPhone 13). This means everything will run smoother, plus your battery life gets a nice boost too.
Cool New Features
But wait, there's more! Check out these awesome additions:
eSIM Support
You can use two different cell plans on the same phone. Talk about staying connected!
Satellite Connectivity
No bars? No problem! You can make emergency calls via satellite when there's no regular cell signal.
Crash Detection
This phone's got your back. If you're in a bad accident, it can call for help automatically.
Always-On Display
No need to keep waking up your phone to check the time or notifications. The display is always on, but don't worry, it's smart about conserving power.
How Much?
You're probably wondering about the price. The iPhone 14 starts at $799 for the 6.1-inch model, and if you want a bit more screen, it's $899 for the 6.7-inch one. You can snag it from Apple or authorized stores.
In a Nutshell
All in all, the iPhone 14 is a big step up from the iPhone 13. With its fresh design, better cameras, a speedier processor, and all those new features, it's a top choice if you're on the hunt for a new smartphone.