Injuries to children are preventable – and yet every 4 hours, a child dies in Sri Lanka due to an injury, while 50 children die every week and 215 children die every month due to preventable accidents. The Sri Lanka College of Community Physicians and Baby Cheramy have jointly taken on the mantle of highlighting the preventable nature of accidents among children through a series of innovative activities. The partnership aims to raise awareness of the dangers that lurk in the environment for children in an attempt to reduce the rising number of accidents. The College of Community Physicians of Sri Lanka is the main professional body in the field of community medicine and works to improve the health of the Sri Lankan population through the provision of high-quality care and the promotion of public health initiatives, while Baby Cheramy, the leading and most loved baby care brand in Sri Lanka, upholds a legacy spanning over 60 years of creating a safer world for children.
In Sri Lanka, injuries have been ranked among the first five leading causes of death amongst children, with the leading causes being transport accidents, drowning, falls, burns, and poisoning. The nature of injuries ranges from external injuries, dog bites, fractures, dislocations and so on. 2713 lives of children were lost due to road accidents in the year 2022. Besides acute morbidity, injured children suffer from long-term disability and chronic pain that limits their ability to perform age-appropriate everyday activities over their lifetime, not to mention the public funds amounting to Rs. 1100 Mn spent on their medical treatment annually. The 10-14 age group reflects the highest proportion of accidents among children at 47%, followed by the 5-9 year-olds, who account for 19% of total accidents among children.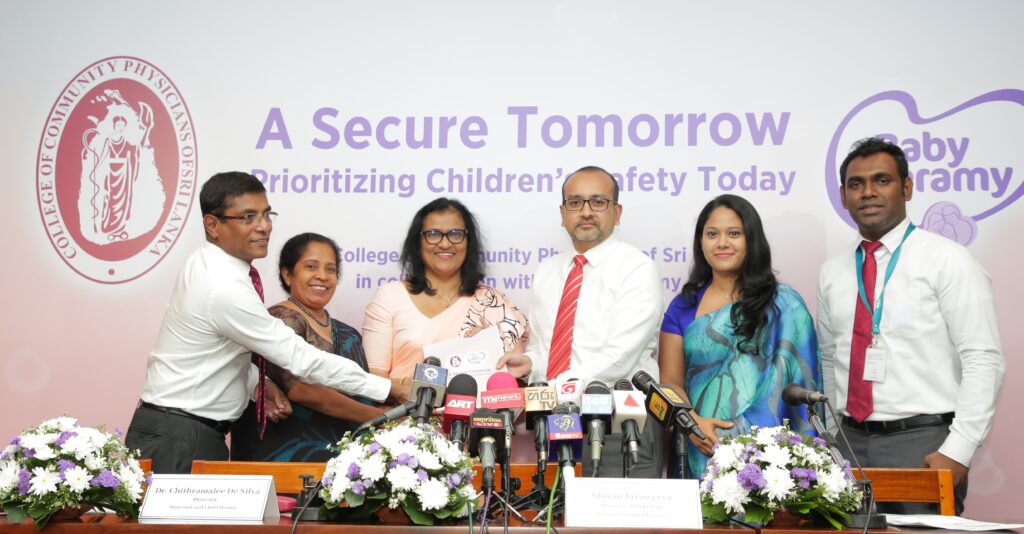 Commenting on the occasion, Dr Shiromi Maduwage, the President of the College of Community Physicians of Sri Lanka said, "The College of Community Physicians of Sri Lanka is pleased to partner with Baby Cheramy, in a collaboration to raise awareness about the importance of injury prevention amongst children, to reduce avoidable disabilities and fatalities. With the announcement of this partnership, we will be launching a series of impactful activities that will disseminate information on how to always keep children safe. Our primary objective is to enhance community health by delivering top-notch care and supporting public health initiatives. Through this collaboration, we will unveil a series of impactful initiatives dedicated to educating the public on ways to always ensure the safety of children."
Dr. Kapila Jayaratne, President-elect of the College of Community Physicians of Sri Lanka explained, "Over 260,000 injury-related hospital admissions take place every year in the under 16-year age category, while amongst children, a majority of injury-related deaths occur outside hospitals, which reflects the need for caregivers to be vigilant of possible hazards at all times. We can take steps to stop accidents while at the same time making sure kids get the chance to be creative, play, and explore their surroundings. This initiative led by our organization, with the support of Baby Cheramy, is a much-needed one to highlight the urgency of preventing injuries among children. Simple measures can be taken to prevent injuries among children. With close and continuous vigilance, injuries can be averted. We are proud to share our evidence-based and proven best practices through this initiative. We hope our message reaches out across the country on preventing injuries amongst children as they rely on adults to keep them safe."
Shiyan Jayaweera, Director of Marketing at Hemas Consumer Brands said, "Moved by the rising trend of accidents amongst minors caused by lack of awareness and negligence, Baby Cheramy is putting its brand purpose into action by ensuring child safety education among parents and other key stakeholders to empower them with the essential knowledge necessary to protect their children from accidents. We are pleased to partner with the College of Community Physicians of Sri Lanka who will provide sound and scientific advice to caregivers to keep children safe from hazards within the home and outside. The key objective of the project is to raise awareness of the causes of childhood injuries and to share expert tips on how they can be avoided by adopting injury preventive measures. In order to achieve this, Baby Cheramy will launch a series of activities including the development and distribution of home accident prevention guide booklets, a safety tips poster campaign, and a digital campaign on child accident prevention."
The most loved baby care brand is committed to collaborating with both governmental and non-governmental entities, pooling resources and efforts to enhance the safety of future generations. The initiative will also ensure long-term monitoring of statistics and the evaluation of the success of initiatives taken to reduce the number of accidents and injuries.
Baby Cheramy's dedication to creating a safer world for babies is evident in its past projects which include educational initiatives tailored for expectant mothers and fathers, staunch advocacy of inclusive parenting, advocating for the holistic development of children, creating and disseminating informative parental guide booklets, and regularly engaging in expert-led educational Q&A sessions through digital media platforms. The brand is also taking steps to ensure babies get the safest products by establishing safety standards within the baby care market of Sri Lanka through an 8-step safety process at the Baby Cheramy Safety Institute, based in Dankotuwa, which raises the bar for the baby care products industry.
These multifaceted efforts underscore the company's dedication to the safety of future generations.
-End-
Find out more financial news and information by engaging Buzzer.lk and Buzzer Financial.